Clara, C.M. Manfredi's Emporium of Wonders
Clara, the genius behind the creatures and witches born forth from C. M. Manfredi's Emporium of Wonders is a one woman show. She makes art both functional and for display as well as toys and jewelry based on imagery found in nature and mythology. You never know what her mind will dream up but you can be certain that it will be unique and amazing.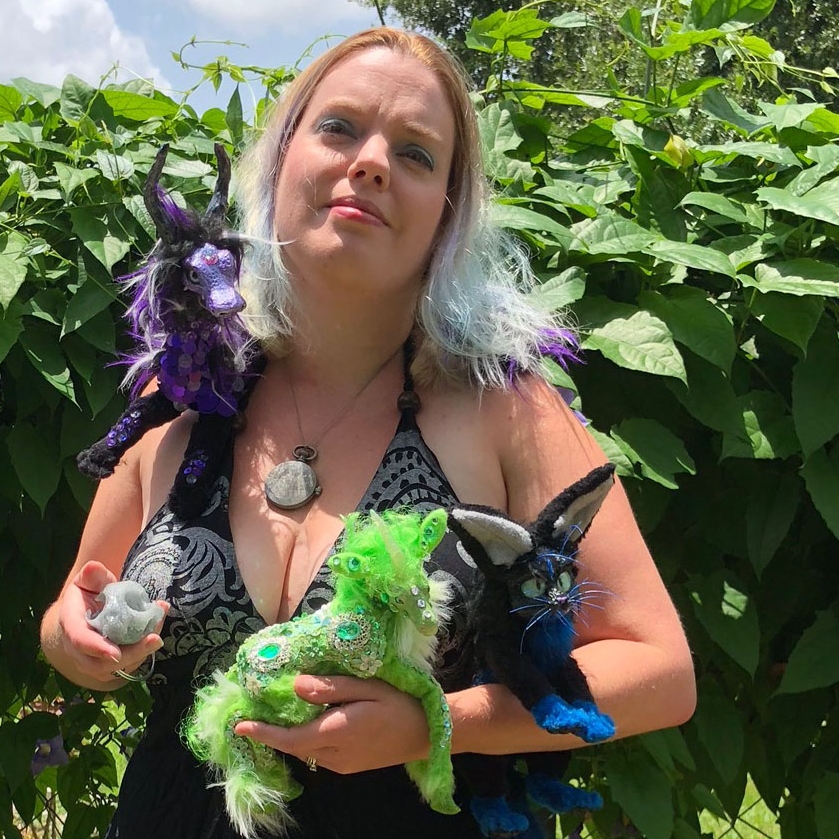 I'm Sarah Phillips, from a sleepy little central Florida town. My art dolls vary a lot, but at the heart of each design is a great passion for mythology and all the mysteries of life and nature. I was raised with traditional painters on both sides of my family and through the years have explored a lot of different media; finally settling into my current art doll and sculptural niche about 8 years ago, at which time I created Gepetto's Attic. Frightening or adorable, I love challenging myself to many different intricate designs and creatures many fully articulated and every single one completely hand sewn and made with love. When not creating art I can be found puttering around in the garden or caring for my numerous pets and son who I hope to pass the art bug on to!
My name is Samantha and I am a graduate from the university of the arts with a degree in sculpture. After school I got interested in taxidermy and began a journey to learn and teach myself the craft and started my line Beyond Bones. I wanted to go beyond traditional taxidermy and began what I call fantasy taxidermy. I create creatures called Optodods, they vary with number of feet and eyes. Most of my work comes from roadkill, pets that have passed and been donated to me, and pet store and farm spoils. Nothing goes to waste with my work either, the furs are used to create the creatures and the bodies are fed to my beetle colony and the bones are then whitened to make jewlery or art.
Donovan, A Dragon's Chest
Donovan is the mastermind behind A Dragon's Chest.
Donovan is a self taught artist working primarily in mixed media, creating gorgeous art dolls and other fantasy sculptures.
Donovan enjoys channeling his love of animals and nature through creating the magical, fantastical, and imaginary creatures that must be seen to be believed.
My name is Melissa and I currently live in Nebraska. I've been an artist my entire life and have been sculpting for 15 years. I love creating all kinds of fantastical creatures, especially my fuzzy little monsters! I'm constantly inspired by the world around me, which influences my art. I'm constantly challenging myself to come up with something new, exciting, and different. I love using my art to make people happy, watching their face light up when they see my work is one of my proudest moments.